A local fair for local people
One of my favourite pastimes is haemorrhaging money so my child can bounce on different equipment, so when we heard that our local fair was in town over the weekend, we hit up that mother faster than you can say "four minutes bouncing for £4".
It started well; £7.50 entrance fee, and we lost my mother to the second hand stalls around the perimeter. We've started a concerted effort to help Noemi understand the value of money by giving her a set amount at events like this and letting her decide how she wants to spend it, but understanding that once it's gone, it's gone.
You have never seen a child become so frugal in such a short space of time, so tentatively, I think it's working.
First stop: Spacehopper Hurdles
Yes, it was as cool as it looks. Noemi excelled herself against a couple of two year olds who couldn't quite fit on the Spacehoppers properly, and won a rosette for her efforts.
There are some things that are quite commonplace at all local fairs in the UK – perhaps elsewhere, too:
A rock band with a singer dressed like she's going to fancy dress party as a medieval serving maid
Five different types of bouncy castle, all with extortionate prices-per-minute and teeming with more than the recommended safe number of children.
Groups of bored teens
Rain, or the threat of rain
A parent trying to console a screaming little shit child.
And there are things that never happen at local fairs, like leaving with change from a twenty pound note.
Noemi's next bouncing apparatus was a castle/slide combo. By the way, it turns out it is really fucking hard to get Noemi in focus while bouncing, so these rather artsy shots will simply have to do.
Jon and I laughed for the full five minute bounce time at the name of the bouncy castle manufacturer. That name was fucking inspired!
Our next move was a bit of a mistake, because we decided to wait in a MAMMOTH FUCKING QUEUE so that Noemi could end up on one of those trampoline bungee thingies.
FORTY-FIVE MINUTES (and one tin of Thatcher's cider – mine, I hasten to add) LATER, and she was launching herself into the air with the greatest of ease.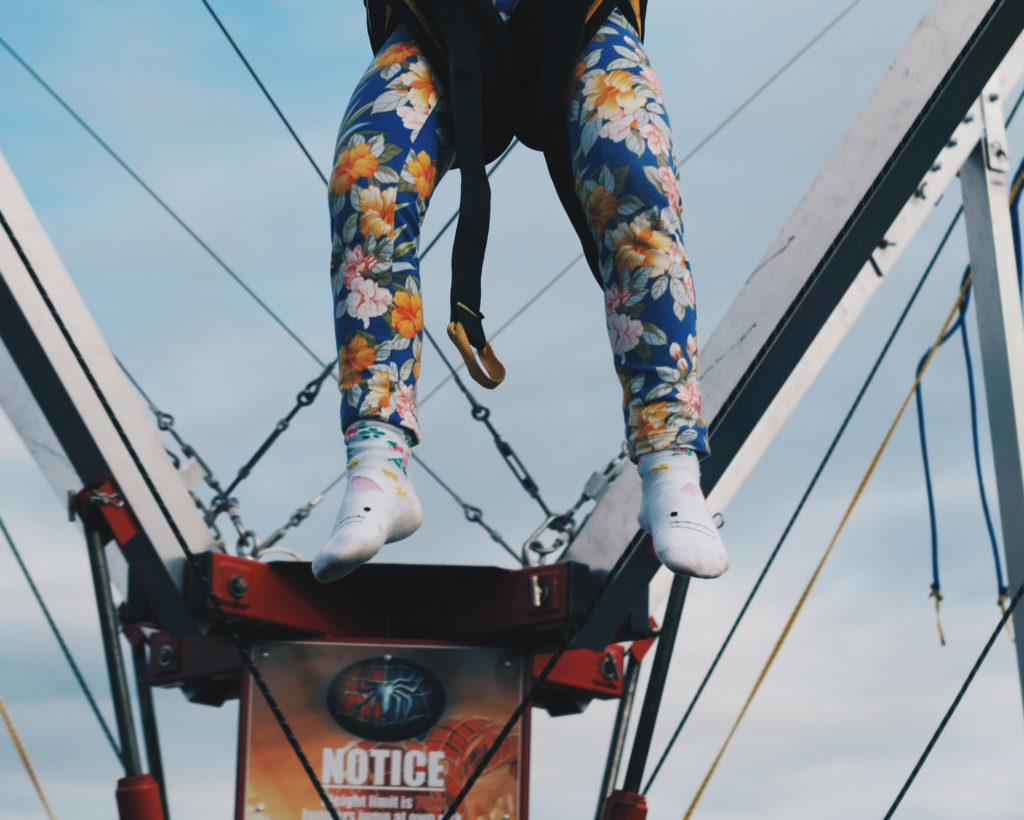 After spending her final 30p on a Sherbet Dip Dab (STILL A THING APPARENTLY!), we watched four impressive ladies showing us their Zumba skills on stage and headed home.